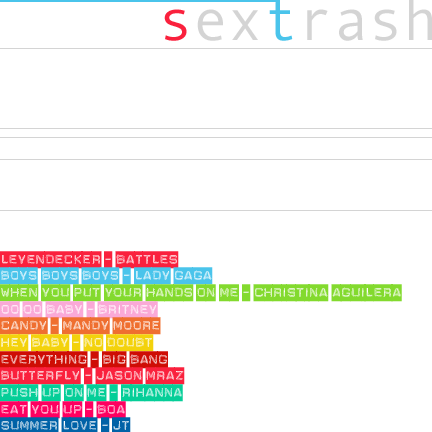 THE DL.


Leyendecker - Battles
It's like, hot grunting + instrumental.
You know, like JT does randomly in the middle of songs.
Except it's a whole song. Full of hot grunting.
Totes wasn't expecting it from a math rock band.
Boys Boys Boys - Lady Gaga
Hey there sugar baby/Saw you twice at the pop show
You taste just like glitter/Mixed with rock and roll
I like you a lot lot/Think you're really hot hot
When You Put Your Hands On Me - Christina Aguilera
I just know when you put your hands on me
I feel sexy and my body turns to gold
I just know when you put your hands on me
I feel ready and I lose my self-control
Oo Oo Baby - Britney
The way you smile /The way you taste/You know I have an appetite
For sexy things/All you do is look at me/It's a disgrace
What's runnin' through my mind is you/Up in my face
Candy - Mandy Moore
Can't do without it/This feeling's got me weak in the knees
Body's in withdrawal/Every time you take it away
Can't you hear me calling/Begging you to come out and play?
Hey Baby - No Doubt
Do I need to explain the awesomeness of this song to you. :|
Everything - Big Bang
♪
Just want your body on my body body
♪
:3
Butterfly - Jason Mraz
Curl your upper lip up and let me look around
Ride your tongue along your bottom lip and bite down
And bend your back and ask those hips if I can touch
Cause they're the perfect jumping off point
Push Up On Me - Rihanna
Yeah, the way that you stare starts a fire in me
Come up to my room, you sexy little thing
And let's play a game, I won't be a tease
I'll show you the boom, my sexy little thing
Eat You Up - BoA
I wanna take you to my room, I'll eat you up
Wanna take you to my room, I'll eat you up
Summer Love - JT
Well I'ma freak ya right each and every night
I know how to do it insane girl
Cuz I can make ya hot make ya stop
Make ya wanna say my name girl
★ ★ ★ ★
A mix I whipped up for the amazing Christina
waveless
, and I hope you guys enjoy its utter redankulous trashiness as well.